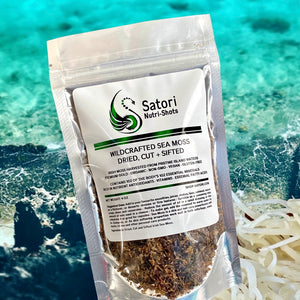 Wildcrafted Sea Moss (Irish Moss) Dried, Cut + Sifted • 4 oz • Premium Gold • Organic • Non-GMO • Vegan • Gluten-Free • Harvested from Pristine Island Waters • Exceptionally Rich in Nutrient Antioxidants, Vitamins, Minerals and Essential Fatty Acids.

Key Benefits of Consuming Sea Moss:

• Holds a staggering 92 of the body's 102 minerals
• Antiviral, antibacterial, antimicrobial, anti-inflammatory, anticoagulant, and probiotic
• Supports healthy immune system
• Healthy digestive function
• Helps irritated bowel, leaky gut, ulcers, gastritis, indigestion, and constipation
• Eliminates excessive mucus
• Helps acne, eczema, psoriasis, dermatitis, burns, reduces fine lines and wrinkles
• Used to treat sore throats, chest coughs, tuberculosis, bronchial infections and pneumonia
• Anti-Radiation food (EMF's)
• Improves mental health (including brain fog)
• Healthy hair and nails
• Post-workout recovery
• Improves sleep

Suggested Uses:

• Add to your favourite smoothies, juices, shakes, teas, oatmeal, sauce as a thickener, or desserts -mousse or firm textures
• Sprinkle as a seasoning into soups, stews and casseroles
• Reduce the amount of oil in a salad dressing or the amount of nuts used in a cheese
• Add to shampoos, or its skin softening properties work well in bath salts/bags, soaps, masks, lotions and other personal care products.
• Make Sea Moss gel

We hope you enjoy a daily serving of our Dried, Cut and Sifted Sea Moss as a valuable addition to your diet and, like many other people, make it part of your daily routine for a boost in your overall health.

Please visit our "About Page" to learn more about Sea Moss.

Disclaimer: Content is provided for informational purposes only and is not intended to replace medical advice from a physician.