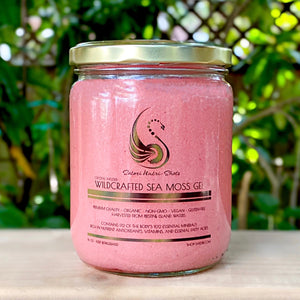 16oz Crystal Infused Dragon Fruit Pineapple Sea Moss Gel of premium quality, wildcrafted, organic, non-GMO, vegan, gluten-free, and harvested from pristine Island waters. Our sea moss gels are exceptionally rich in nutrient antioxidants, vitamins, minerals and essential fatty acids.
We take great care and lengths during our preparation methods, which include the use of particular crystals to charge the sea moss with energies associated with healing, ensuring our customer's optimal health benefit, and always with love in a high vibrational space. 
Key Benefits of Consuming Dragon Fruit:
Immune booster 
Cardiovascular health
Antibacterial and anti-fungal
High vitamin content
Increased metabolism
Aides in digestion
Cancer prevention
Anti-aging properties 
Good bone and teeth health 
Key Benefits of Consuming Pineapple:
Improves oral and eye health
Immune booster
Improves blood circulation 
Helps prevent arthritis, cancer and heart disease
Reduces inflammation of joints and muscles
Helps heal wounds and protects against infections
Reduces risk of dementia/Alzheimer's Disease
Protects against constipation/Irritable Bowel Syndrome
Key Benefits of Consuming Sea Moss Gel:
Holds a staggering 92 of the body's 102 minerals
Treats thyroid disorders
Eliminates excessive mucus
Helps acne, eczema, psoriasis, dermatitis, and burns
Used to treat sore throats, chest coughs, tuberculosis, bronchial infections and pneumonia
Anti-Radiation food (EMF's)
Helps with diabetes
Healthy hair and nails
Relieves anemia
Improves libido
Boosts fertility
Post workout recovery
Improves sleep
Please visit our "About Sea Moss Nutri-Shots" page for more information and instructions on how to use sea moss gel.
We hope you enjoy a daily serving of our Crystal Infused Sea Moss Gel as a valuable addition to your diet and, like many other people, make it part of your daily routine for a boost in your overall health.
•
IMPORTANT PLEASE NOTE:

SHIPPING: Due to the refrigeration and packing requirements of this product, it will ship in a food-safe pouch, not a jar. We only ship it within Canada and the US and do not ship to PO Boxes. Orders are shipped on Mondays to account for any unexpected shipping delays with the carrier.

Please leave a note including your phone number when placing your order. 

LOCAL ORDERS (CLOVERDALE, BC): Home delivery is provided once a week (or more), depending on the area. There is a $10 Delivery Fee (FREE over $80). Contact us to find out your delivery day.

When you check out, please leave a note including your phone number to confirm pick-up day, time, or delivery address. 

We will contact you to schedule a delivery.
Disclaimer: Content is provided for informational purposes only and is not intended to replace medical advice from a physician.